Henry Cotton, the great English golfer, won the Open Championship three times: 1934 at Royal St. George's, 1937 at Carnoustie, and 1948 at Muirfield. In the championship, Cotton opened with rounds of 67 and 65. He shot 79 in the final round but still cruised to a five-stroke victory.
Cotton is a member of the World Golf Hall of Fame, he played in four Ryder Cups, and he captained the British side in 1947 and 1953. It's said he practiced like Ben Hogan and lived like Walter Hagen. His World Golf Hall of Fame bio says:
Cotton's devotion to practice was almost maniacal for he believed the only secrets to becoming a champion golfer were hard work and strong hands. For hours upon hours, Cotton was known to hit balls from thick rough until his hands blistered and bled.
When Cotton's competitive golf years were over, he worked hard to become one of the most highly regarded golf instructors in the world. Cotton was knighted in 1987, shortly before his death.
Characteristics of Henry Cotton's Golf Swing
• Weak grip
• Inside takeaway
• Handsy swing
Compare Henry Cotton's Golf Swing To
• Bobby Jones (inside takeaway, handsy action)
• Ken Venturi (inside takeaway)
• Corey Pavin (weak grip)
Henry Cotton Video and Photo Vault
This is a wonderful, short video about Cotton:

Here's a swing sequence that shows the start of Cotton's backswing (click on thumbnail to view larger version):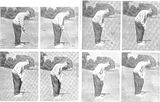 Henry Cotton, tee shot:

Products You Might Be Interested In
• [easyazon-link asin="B000BWEJ3Q"]Shell's Wonderful World of Golf: Cotton vs. Sarazen (VHS), 1962[/easyazon-link]
• [easyazon-link asin="0671612972"]"Five Lessons: The Modern Fundamentals of Golf," by Ben Hogan with Herbert Warren Wind[/easyazon-link]